'Join dementia research': How long before I can take part in a study?
By Robin Brisbourne | Wednesday 03 December 2014
We recently told you about a new initiative called 'Join dementia research'. This innovative service allows you to register your interest in taking part in dementia studies so that researchers can contact with you with details of projects you might be suitable for. More and more people have been signing up at www.joindementiaresearch.nihr.ac.uk or by calling the Dementia Research Infoline on 0300 111 5 111.
How soon will I match to a study?
People who have registered to 'Join dementia research' often ask me how long it will be before they match to a study and are approached by researchers. This is a good question and not an easy one to answer. Although anyone over 18 is eligible to register to the service, how soon you match to a study will depend on your individual circumstances.
People with dementia
While we're keen to highlight that 'Join dementia research' isn't just for people with a dementia diagnosis, obviously people with dementia are incredibly important for dementia research. A key reason that we have developed 'Join dementia research' is that relatively few people with dementia take part in research compared to people with other conditions. Around 20% of people with a cancer diagnosis are involved in research, this figure falls to 4% for dementia. The only way we can improve our understanding of how dementia affects people, how to diagnose dementia sooner and more accurately, and whether new treatments are effective, is with the involvement of people with dementia. As such if you have a diagnosis of dementia or experience problems with your memory, you are likely to hear from researchers sooner.
Age
Some studies involve a group of people with dementia and a group of people without any memory problems to act as a comparison or control group. The control group will need to be made up of people who are the same age as the people with dementia. As dementia mostly affects people over the age of 65, if you fall into that age group there will be more studies you match to and you are more likely to be contacted sooner.
Although dementia usually affects people over the age of 65 we know that the earliest changes can begin a decade or more before symptoms like memory loss set in. In order to monitor these early changes people over the age of 40 may be invited to take part in observational studies or research aiming to prevent dementia from developing.
Carers
'Join dementia research' doesn't only recruit people to medical studies. It is also for people interested in getting involved in care research. Researchers constantly evaluate care practices so that people with dementia who require care can have the best possible quality of life, and so carers receive all the information and support that they need. If you are a carer for someone with dementia you'll be able to participate in this kind of research.
Other factors
If you have agreed to travel widely to take part in research or live in a city where a lot of studies are taking place, you are more likely to match to studies.
Each study will also have its own eligibility criteria that you may or may not meet. For example, one study might not be able to recruit people with a particular medical condition because it affects dementia risk, another study may only want to recruit people with that same medical condition.
Is there anything for younger people?
If you do not have any memory problems, are not a carer for someone with dementia, and are under 40 there will be fewer studies for which you are eligible to take part. However we're very keen that you still sign up as there will be studies on 'Join dementia research' that will benefit enormously from your involvement. Different kinds of studies are being added to the system all the time and in future, some studies may investigate public attitudes towards dementia, this is the kind of research that anybody, regardless of age, can take part in. Younger, healthy volunteers may also be needed for early stage clinical trials so please don't be deterred from signing up, you can still make a valuable contribution to research.
As the service develops there will be many more studies added to 'Join dementia research'. We hope this will provide something for everyone who wants to get involved regardless of their circumstances. To maximise your chances of being recruited to a study, remember to fill in your profile as completely as possible and update any changes to your circumstances. Please be patient if you are keen to get involved but haven't heard from a study yet. More studies are being added to the system all the time so hopefully you'll be hearing from a research team soon!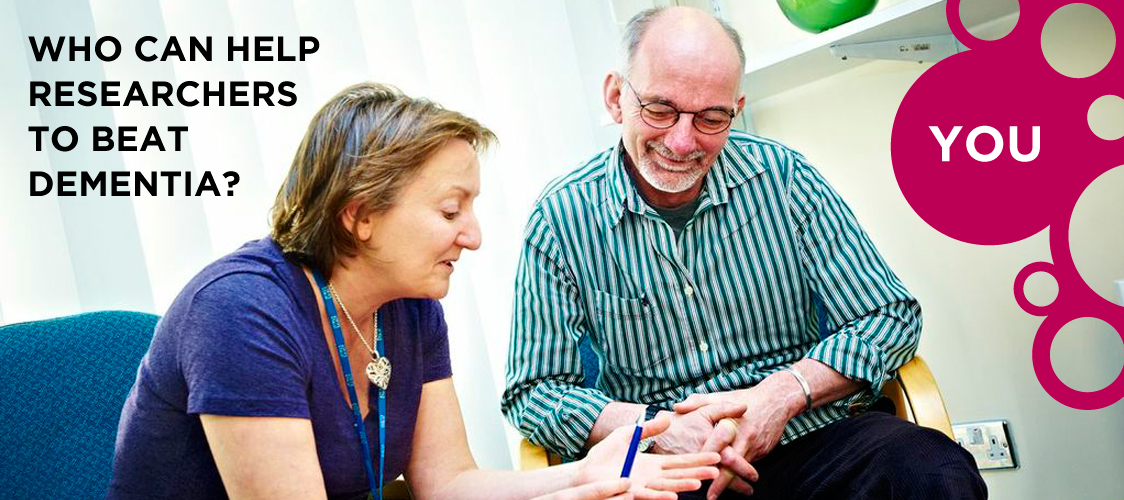 ---
This is a joint blog post with Join Dementia Research.